"POWER, CONFIDENCE, AND SPEED ... GUARANTEED!"
WATCH THE DEMO!
DON'T BUY JUST A PITCHING MACHINE!
You are investing in more than a pitching machine, your are investing in your player's future success! Unlike other plastic ball personal pitching machines, the Big League Bucket is a complete swing training tool! Three amazing baseball and softball swing training tools that make training challenging, effective and will IMPROVE YOUR SWING FAST... GUARANTEED! If you are a Rookie, All Star, or MVP we have a full package that fits your player's age and abilities. Our proven NEW
patent pending
technology is the best way for you to effectively train in your basement, garage, or backyard and be prepared for the upcoming season!

From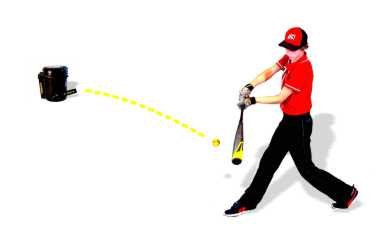 the Little League Player just starting to hit a pitched ball to the more advanced player that has to learn to hit the curve ball, the Big League Bucket will challenge them all: Fastball speeds from 15 mph up to 75 mph (Real Speeds not simulated). Right and Left handed curves as well as sliders.(Drop balls for the softball players)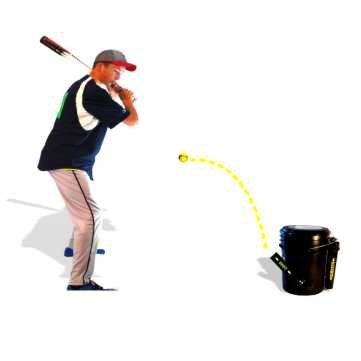 The Big League Bucket is tested and has shown amazing results. 7 State Championship teams, 3 Regional Little League Teams, and 1 Little League World Series Team have successfully used the Big League Bucket to be prepared to RULE their season! Players developed fine eye-hand coordination and learned proper mechanics of a powerful inside out swing ... FAST! Works great with your favorite swing training aids; weighted bats, speed bats, small bats...etc.
Keeping players engaged and entertained will encourage them to swing more and therefore improve FASTER! Studies show that on average, better youth hitters swing 3x as much as their peers and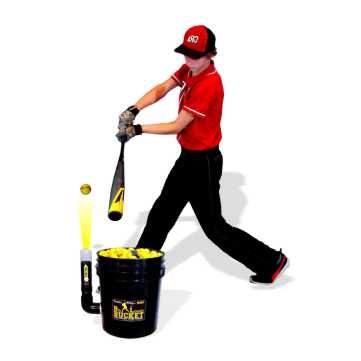 have about double the batting average. In short, if you want your players to become a better hitter make it FUN and they will swing more. Get your players to take extra swings and learn to compete with games and challenges. With all the tools and the variety of drills you can keep young and experienced players competing and having a blast with the Big League Bucket.
---
"Here's what our customers say!"
"

The Big League Bucket helped my team Reach the Little League World Series"
Coach Steve C. Coon Rapids
---
"We just got our Bucket in December and I can already see my son's swing getting better each day- THANK YOU!"